IDM Südtirol/Matt Cherubino
Day trip destination
Via Claudia Augusta cycle path
Via Claudia Augusta cycle path: by bike from Mals to Meran
Via Claudia Augusta cycle path runs for a total of over 700 kilometres. The Roman trade route went from Donauwörth near Augsburg via Fernpass and Reschenpass to Venice.
Via Claudia Augusta was used by the Romans as of the 2nd century as the most important route over the Alps. These days, Via Claudia Augusta is ridden by lots of cyclists from all over the world coming to Vinschgau and South Tyrol to do the stretch from Mals to Meran by bike. Breathtaking mountain scenery, views of the extensive orchards and rivers snaking through the countryside included.
In 1552, a milestone from Emperor Claudius Augustus' times was discovered in Rabland. This written monument – the oldest in the Alpine area – indicates that a military road, Via Claudia Augusta, ran past it. Named after the person who initiated it, it runs over the Alps, which was crossed even in ancient times and allowed lively trade relations between north and south. Until 46 AD, the road saw regular improvements to it. The six to eight-metre wide road sloped down at its edges into ditches so that it would dry quickly after rain and snow fell.
From Mals to Meran
Today, this historical road is the popular Via Claudia Augusta cycle path, which runs through the Vinschgau in South Tyrol. Starting at Mals, you cover around 80 kilometres until you get to the spa town of Meran. The cycle path is not difficult, and is therefore suitable for families with children. The path follows the Etsch river mainly over asphalt, and there are lots of places to stop. In Glurns, for example, the little medieval town in Vinschgau, or in the village of Laas, which is famous for marble and apricots ('Marillen'). Straight through orchards, down to ravines, past castles and fortresses, through nature reserves – the cycle path is not just varied and short, but also a cultural highlight. The stretch runs flat or downhill and is popular with leisurely cyclists with moderate stamina.
Return by train
If you don't want to take your own bike on holiday, you can hire a bicycle at the bicycle hire points at the stations along the way – and give it back in a different place. The Vinschger Bahn train runs mostly parallel to the cycle route, so you can simply get on the train when your legs start to hurt. Once in Meran, the Vinschger Bahn takes cyclists back to Mals. If you don't fancy ending your bike ride there, you can always extend your tour and carry on from Meran: the cycle path network in South Tyrol covers the whole area.
Farm search
Farms near Via Claudia Augusta
186
farm found
farms found
Niederhof
Fam. Abler
| Partschins
(Meran and environs)
Product corner:
speck, sausages,

fruit jams ...
Farm offers:
Experience everyday life on the farm, Barn visits, Experience the hay harvest ...
Hofer Hof
Fam. Platzgummer
| Algund
(Meran and environs)
Farm shop:
fruit jams, cordial,

fruit juice ...
Untermairhof
Fam. Siller
| Algund
(Meran and environs)
Product corner:
fruit jams, cordial,

dried fruit ...
Cycle path
Further information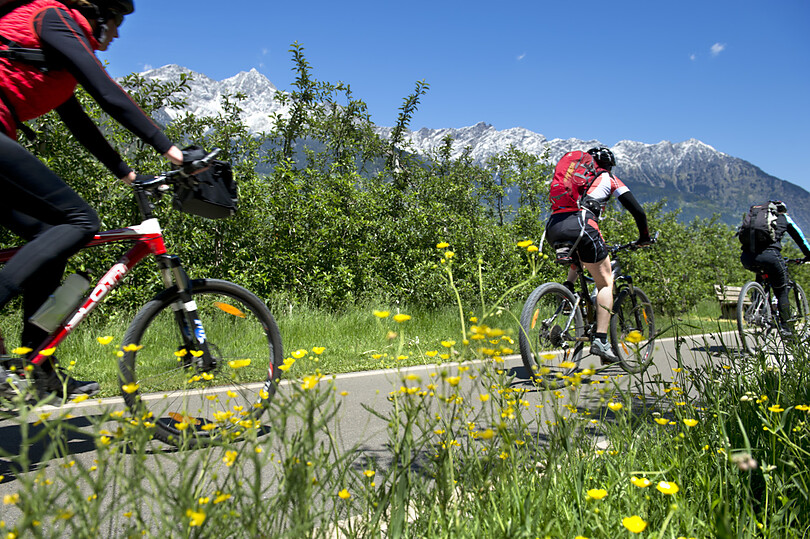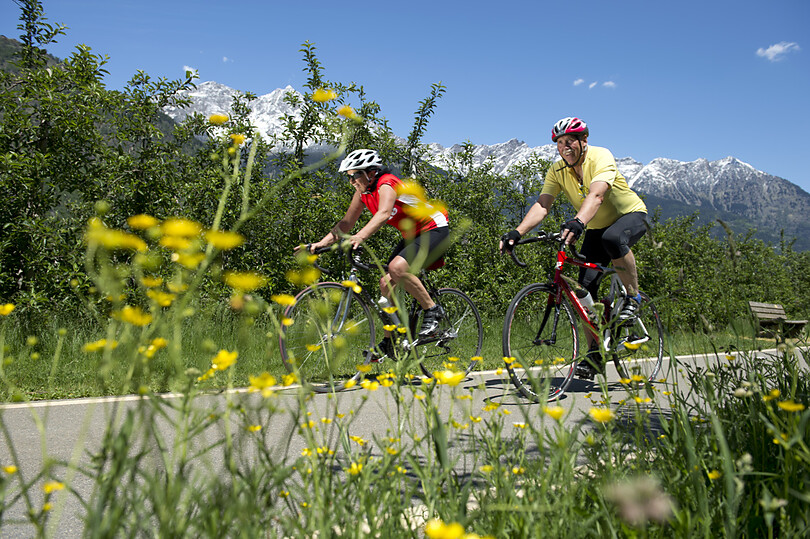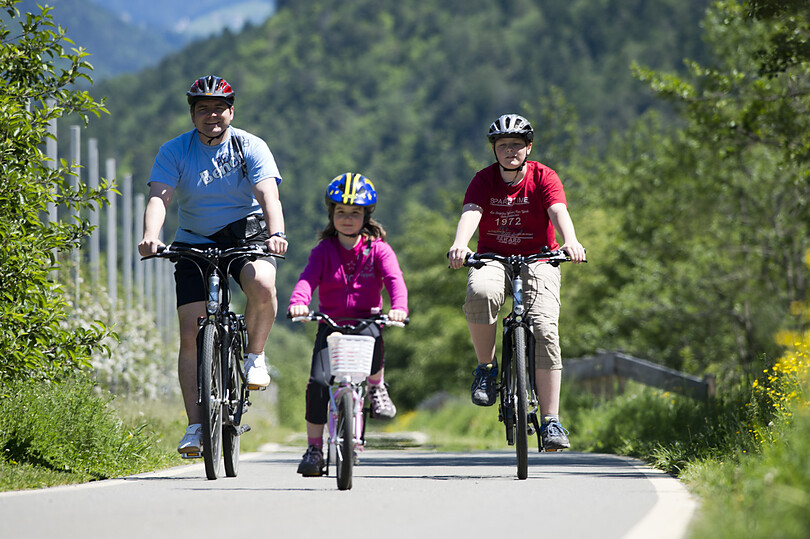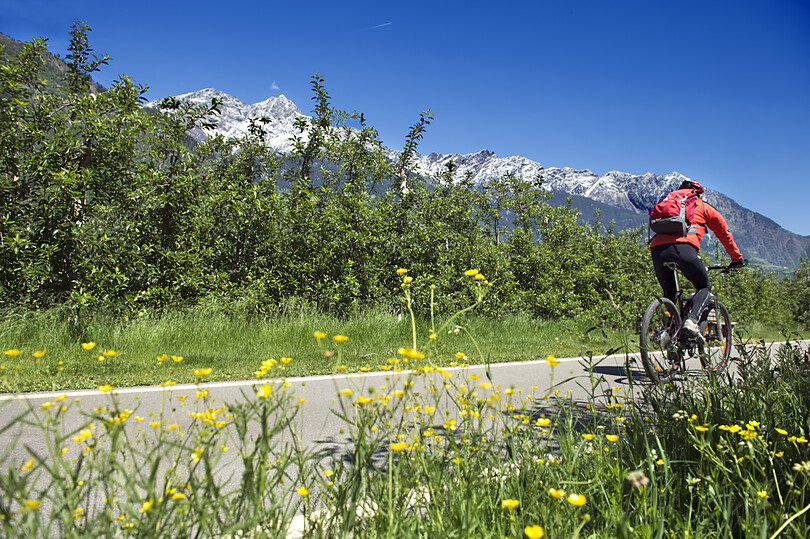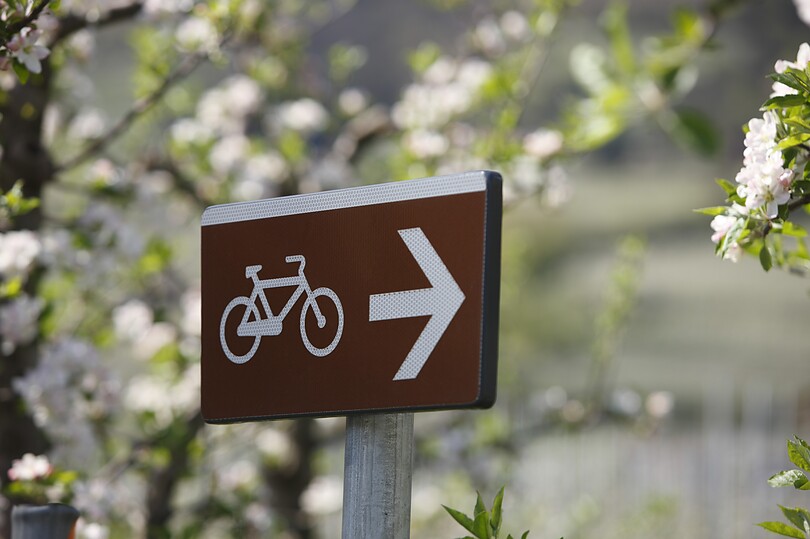 Contacts
Tourist Association of Parcines, Rablà and Tel
Via Spauregg, 10
39020 Partschins/Parcines
Park
-Saringstraße, Rabland/Rablà (parking lot No. 1 at the cycling track, close to the railway station)
all-day parking, in the designated parking lot
-Cutraunstraße, Rabland (parking lot No. 2 on the cycling track, close to the railway station )
All-day parking, in the designated parking lot
General description
From the Adige Valley to the mountains, visitors can cycle with constant temperatures through shady forests and flowering meadows, far away from the hustle and bustle of traffic.
Author's tip
Our tip: BikemobilCard - one ticket for all means of transport!
Travel around South Tyrol with public means of transport and rent a bike with just one ticket!
The BikemobilCard allows you to make full use of South Tyrol's Integrated Public Transport network on one, three or seven consecutive days. In addition, on one day of your choice during the validity period of your BikemobilCard you may rent a bike in one of the railway stations' bike rentals or in various further rental points dislocated throughout the territory. In every bike rental participating in the initiative it is possible to rent and return bikes. Feel free to return your bike at a rental point differing from that of departure.
Route description
Tour route and altitudes direction Reschensee/Lago Resia - starting point Rabland/Rablà:
• Start point - Rabland/Rablà: 525 m
• Naturns/Naturno: 554 m after 7 km of cycling route
• Staben/Stava: 560 m after 10 km of cycling route
• Latsch/Laces: 626 m after 20 km of cycling route
• Laas/Lasa: 850 m after 33 km of cycling route
• Glurns/Glorenza: 907 m after 50 km of cycling route
• Schluderns/Sluderno: 921 m after 55 km of cycling route
• Mals/Malles: 1.051 m after 60 km of cycling route
• End point - Reschenpass/Passo Resia: 1.500 m after 80 km of cycling route