Tourismusverein Kaltern/Helmuth Rier
Day trip destination
Kalterer See lake
Kalterer See lake: the Alpine lake with southern flair
You can't find coconut trees and sandy beaches at Kalterer See lake. Although the warmest lake in the Alps may justifiably be called a lake with southern flair.
With water temperatures reaching 17° to 19° C as early as spring and up to 28° C at the height of summer, the lake at Kaltern, or 'Kalterer See', in the Unterland region of South Tyrol, holds the record for the warmest Alpine lake. It owes its balmy temperatures to that fact that it is so shallow: the deepest point in Kalterer See lake is just 5.6 metres. Its size, on the other hand, is respectable. With around 1.5 square kilometres, it covers an area nearly as large as Kuens, the smallest municipality of South Tyrol, and is thus the largest natural lake in South Tyrol. This doesn't mean that its water quality leaves anything to be desired – to the contrary. In 2006, it was named the second cleanest lake in Italy by the Italian environmental agency, 'Legambiente'. The only other lake containing water that you wouldn't mind swallowing by accident is Sirio lake in Piedmont.
Wind on command
But it's not just the size and water quality that are respectable. The weather at Kalterer See lake could be described as pretty amazing. The sun shines all year round. Starting in March, the Ora wind phenomenon, a southerly breeze that blows from Lake Garda to Kaltern in the early afternoon, arrives daily. This makes the lake the ideal spot for windsurfers and sailors. Its waters are even considered the cradle of windsurfing in Italy, which started here in the 1970s. But it's not just windsurfers that appreciate the waves, rowing boats and pedalos that may be hired at various points, can be used to explore the lake. Swimming is allowed, of course, and there are four bathing zones to choose from for keen swimmers.
All-round satisfaction
Anyone who prefers to view the water from a respectable distance will not be not left twiddling their thumbs at Kalterer See lake, however. Equipped with a day pass and state fishing licence, both available at the tourist office in Kaltern, you can cast your fishing line into the water. Pike, carp, eel and other lake dwellers have been known to wriggle on a few fishing hooks. If you don't fancy a day in the lake or at the lake, then you can take a walk around the lake. This may be done with the 'Kalterer-See-Rundwanderung' path – an easy walk with lots of places to stop off at. In addition, the circular walk leads over wooden walkways though the biotope on the southern banks of the Kalterer See lake. This biotope provides over 100 different bird species and lots of swamp dwellers with a sheltered habitat. This short trip is not just recommended in spring and summer, but also in autumn, when the vineyards around the lake at at their most colourful.
In winter, on the other hand, the lake is used for ice-skating, should it freeze over.
Lake vitality
Kalterer See lake does not just have its flora and fauna to thank for making it a lake for all seasons. Sometimes, the lake is 'just' a backdrop. For example, when you hike up to the ruins of Leuchtenburg castle from the lakeside hamlet of Klughammer. You can see the whole lake and surrounding area from this Kaltern landmark.
Once a year, during the 'Kalterer Seespiele' festival, Kalterer See lake also becomes a backdrop in St. Josef, the second place right on its banks. At this event, held at the end of July, well-known artists and bands such as Uriah Heep, Status Quo or Mark Forster take to the stage and visitors are happy to forget their swimming, sailing, fishing, hiking and running pursuits for a while.
Farm search
Farms around the Kalterer See lake
84
farm found
farms found
Weinhof
Fam. Andergassen
| Kaltern an der Weinstraße
(Bolzano and environs)
Farm with organic farming, Fruit growing, Wine growing
Farm's own products:
fruit juice, wine
Weingut Morandell
Fam. Morandell
| Kaltern an der Weinstraße
(Bolzano and environs)
Farm offers:
Experience everyday life on the farm, Farm tour and produce tasting, Orchard and vineyard tours ...
Rösslhof
Fam. Ambach
| Kaltern an der Weinstraße
(Bolzano and environs)
Fruit growing, Wine growing
Product corner:
eggs, honey,

fruit jams ...
Farm offers:
Farm tour and wine tasting
Kalterer See lake
Further information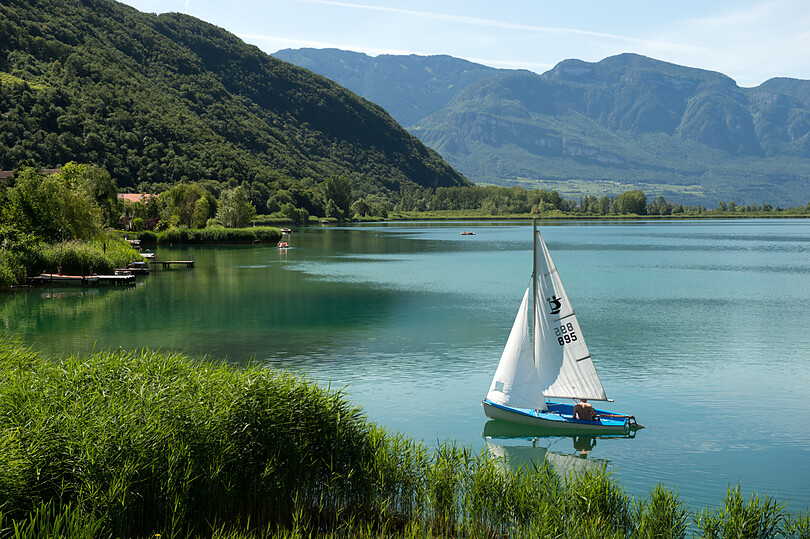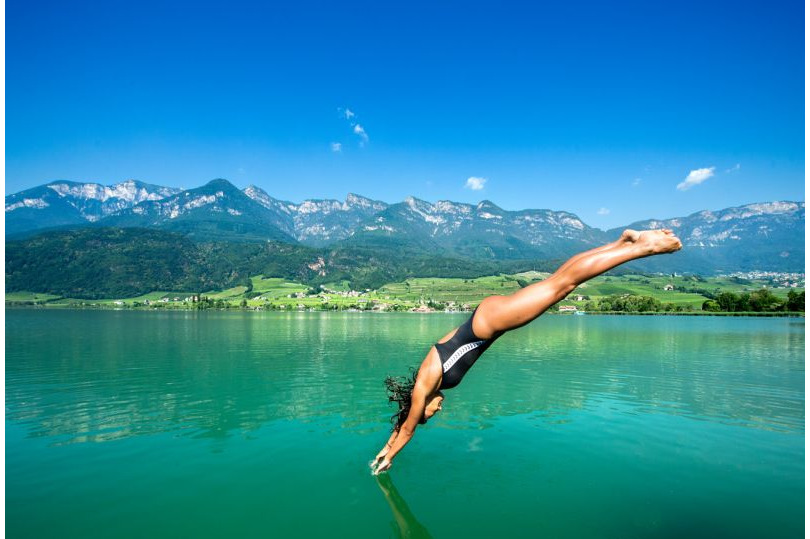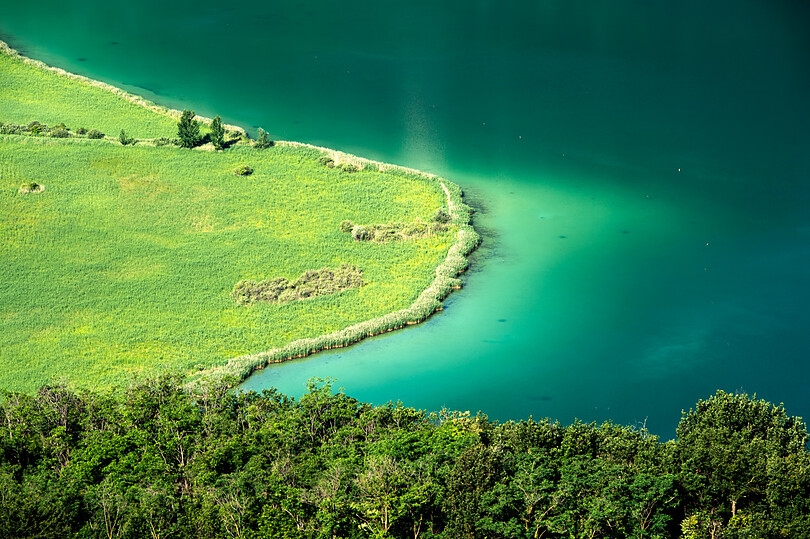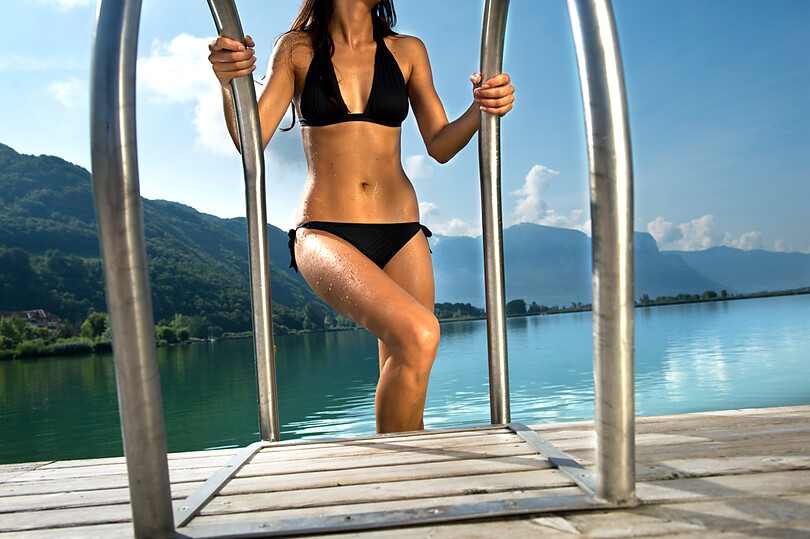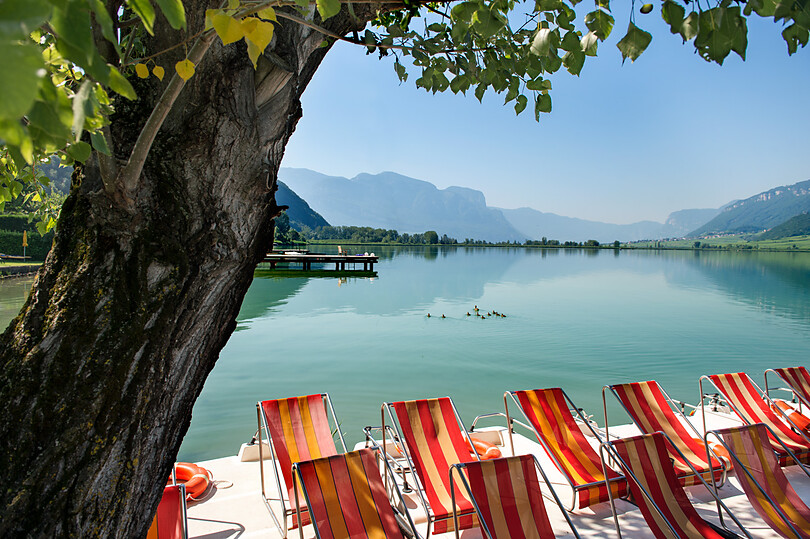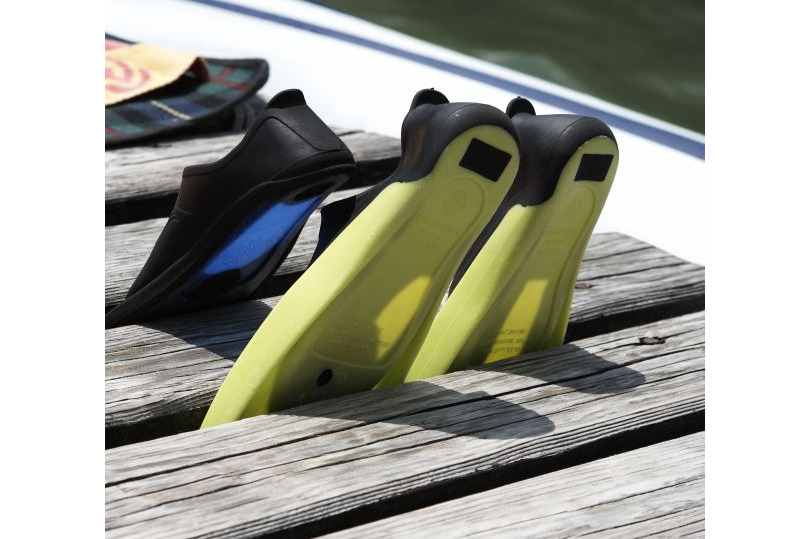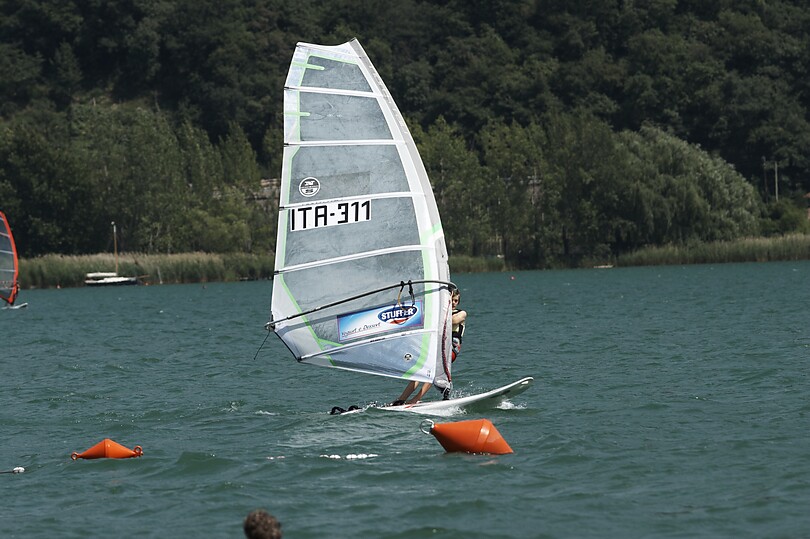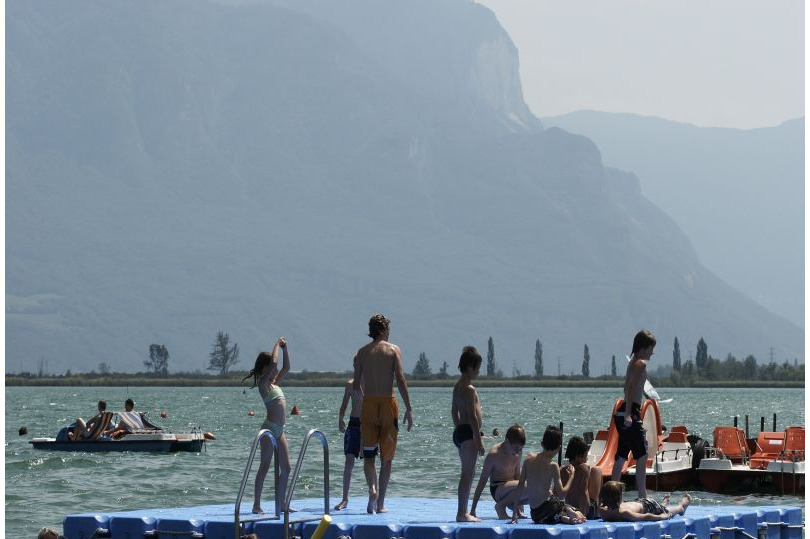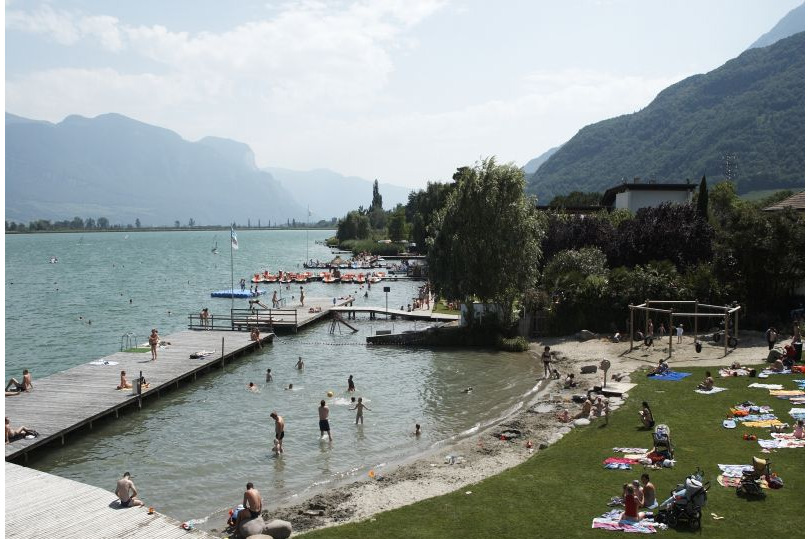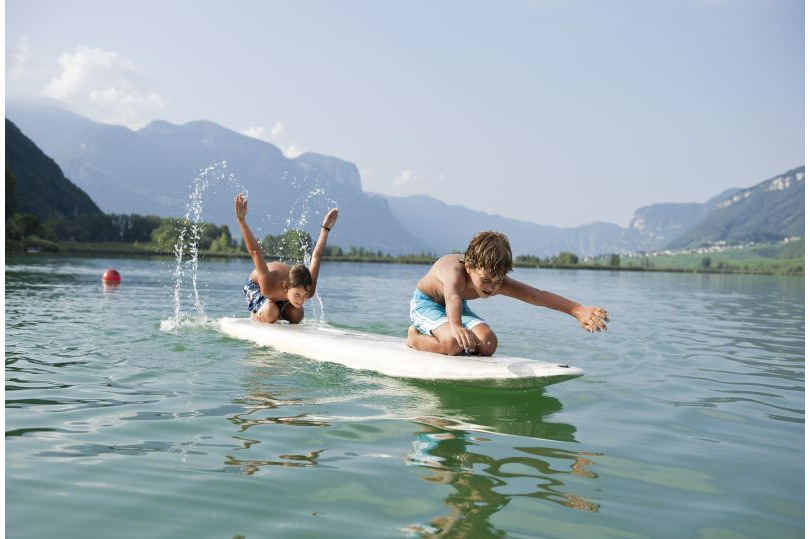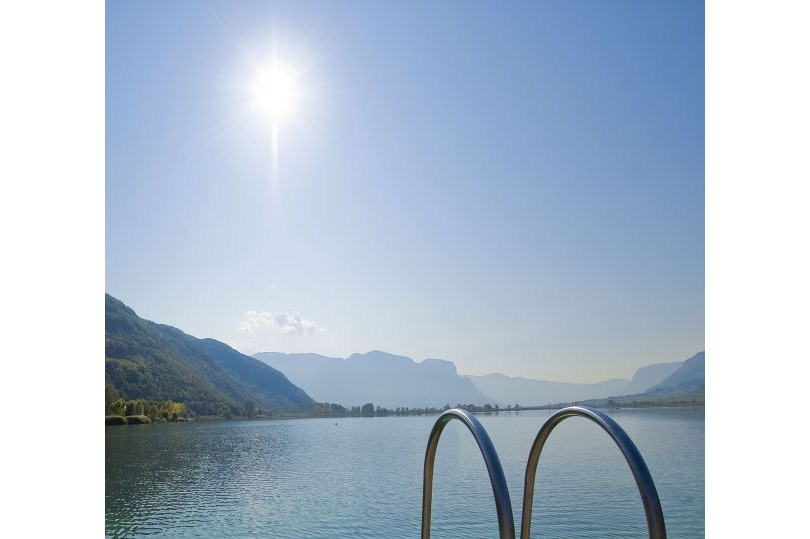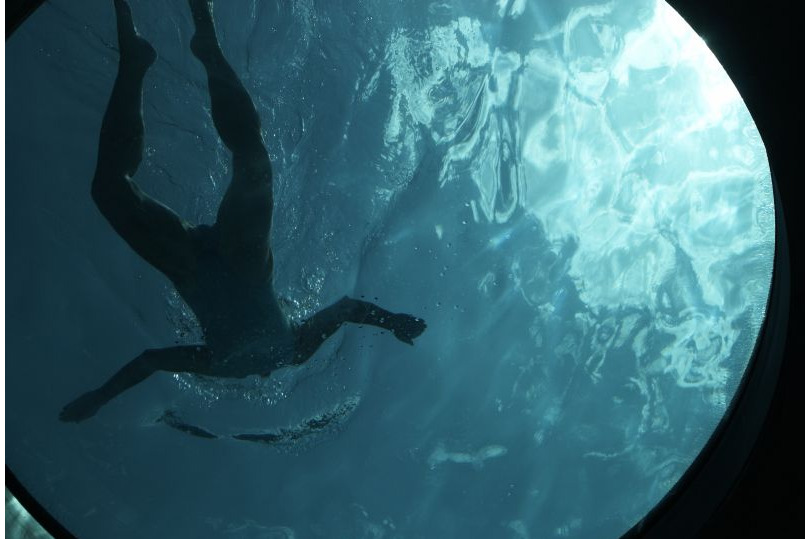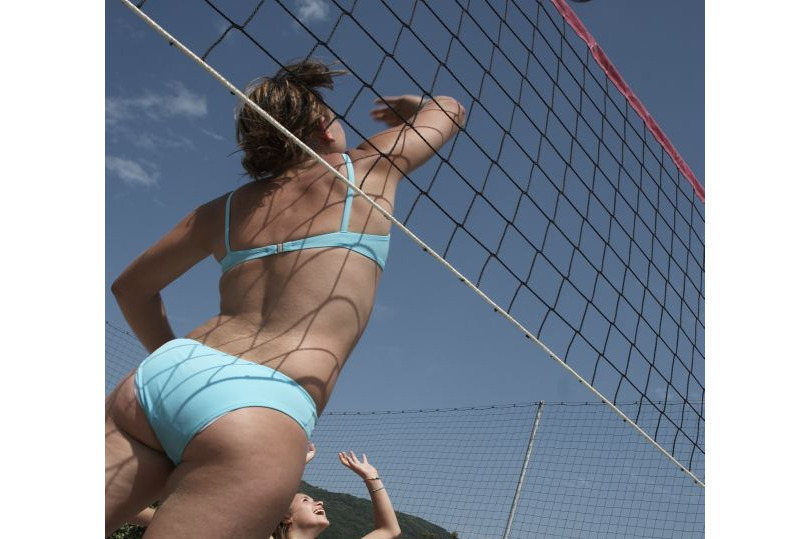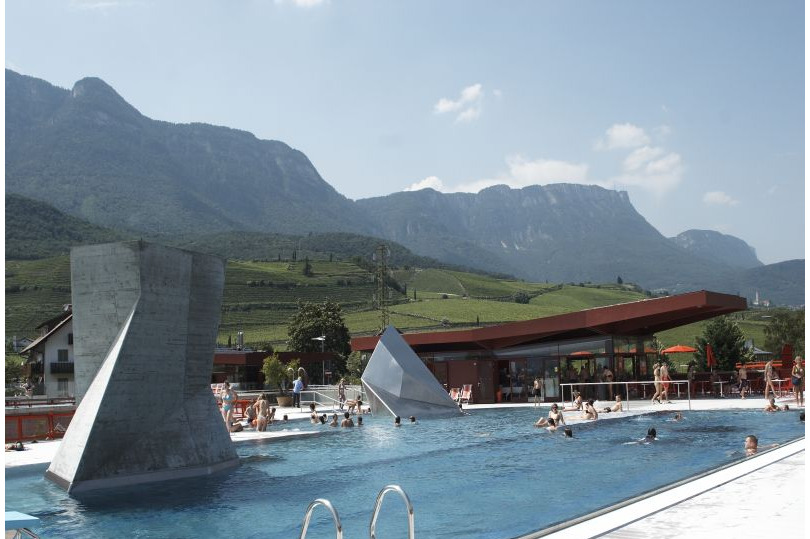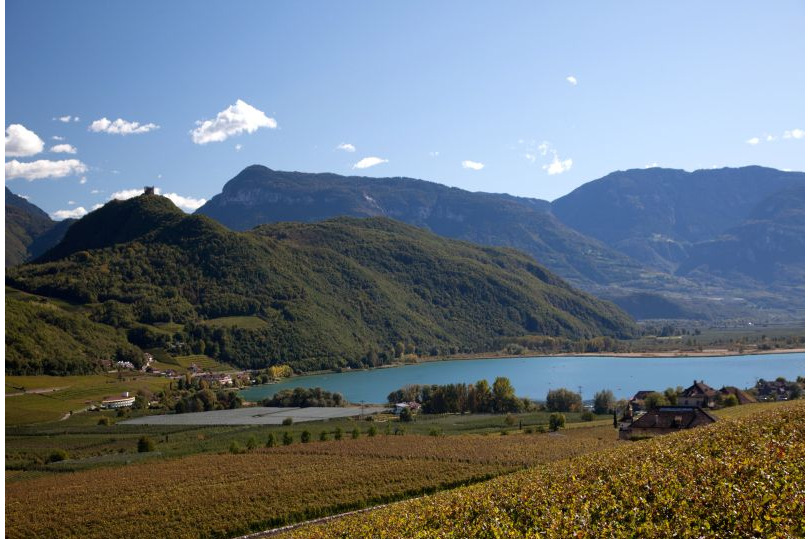 Contacts
Lake of Caldaro/Kalterer See
St. Josef am See/S. Giuseppe al lago
39052 Caldaro/Kaltern
General description
The Lake Kaltern The Mediterranean landscape around Lake Kalterer See leads many to the correct assumption that this lake really is the warmest lake in the Alps! There are four public beaches that offer direct access to the lake, known for its especially inviting water quality and colorful splendor! Sometimes it's a tint of deep blue, other times it mirrors the green of the surrounding landscape! And Lake Kalterer See is so versatile: row boats, sailboats, pedal boats and surf boards glide across the water. Yet it's so incredibly tranquil here. For sure you'll hear the sound of children's laughter; after all, this is their little corner of paradise. Quite simply, it's beautiful in the lake, on the lake and all around the lake.
description to arrive at destination
By car: from Kaltern take the wine road towards Tramin/Termeno. In St. Josef/San Giuseppe turn left towards Lake Kaltern. Large parking area available.
By public transportation: regular bus connections to Lake Kaltern. At the following link you will find further info as well as the detailed timetable www.sii.bz.it